Women's Opportunity Award
The Women's Opportunity Award (WOA) is given to women who are entering and/or enrolled in college certificate or degree programs, are head of household and have a financial need. This year, SI Bend awarded two women with a WOA in the amount of $1500, Johannah Quinlan from Bend and Jacqueline Clements from Burns.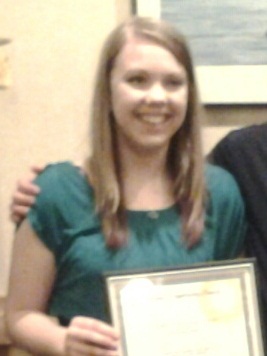 WOA Recipients: Johannah Quinlan, Jacqueline Clements (Not Pictured)
 Violet Richardson Award
Two Violet Richardson Awards were given at the Soroptimist International Annual Awards Luncheon in the amount of $500 each. This award is given on the basis of a young woman's commitment and accomplishments toward making her community and the world a better place through volunteerism.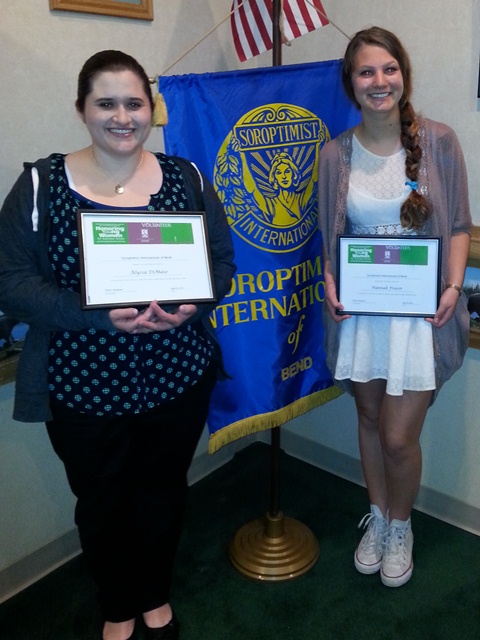 Violet Richardson Award Recipients: Alyssa DiMaio and Hannah Fraser
Summit senior, Alyssa DiMaio has shown her community dedication by volunteering at Grandma's House for the past four years. Her contributions included organizing donations of food and clothing, assisting the Executive Director at community events, giving presentations at schools, as well as being a mentor to the residents of Grandma's House. Alyssa also has worked part time at Kid's Club at the Athletic Club of Bend caring for infants and toddlers. She will be attending Gonzaga University in Spokane in the fall.
Hannah Fraser, also a Summit senior, has shown her community spirit with her work as the president and community service coordinator of Summit's Interact Club. During her tenure, Interact has in partnership with the local Rotary, funded water filters, volunteered with struggling students, volunteered at the Boys and Girls Club and organized nights to feed the homeless. She intends to continue volunteering at the Eugene Boys and Girls Club in the fall where she will attend the University of Oregon Robert D. Clark Honors College.
Categories: Awards